PEP will estimate for you and make recommendations, but now it's easy to adjust that pricing on the fly.  You don't have to go into setting and change your pricing set up.  Modifications can be done right in the estimate!  These adjustments only impact the job you're working on.
PEP Recommendations
PEP recommendations are based on industry standards and the pricing data you put in during set up.
Your Prices!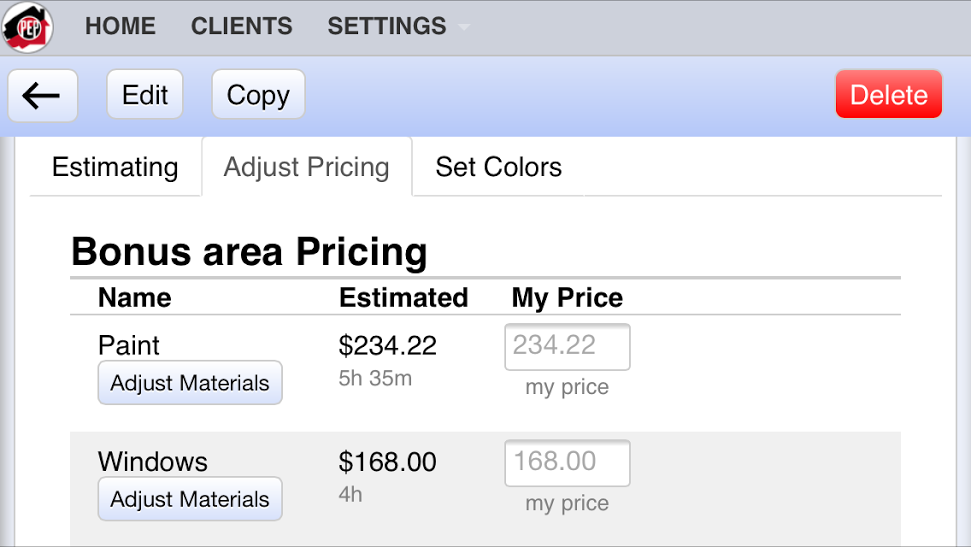 Just click or tap in the box under "My Price" to enter a new labor price, then scroll down to see the new price on the estimate.
You can also adjust the price for materials. Just hit the "Adjust Materials" buttons and you can immediately see all of the materials for the area.
From there you can modify your labor prices and your materials prices.
Making color selections is now easier too!  You can set all if the colors for an area in one spot. Just tap "Set Colors" and you'll be able to input colors for each of the items on the job.  If you've added the color names to your color list in Settings, you won't even have much typing to do. Just start entering a color name and select from the selections that most closely match what you're typing.