To get customers you have to market your business. There is just no way around it. Enlisting the help from a marketing firm is one option but if you don't have a lot of money to spend, you need to find creative and inexpensive ways to get your brand out there.
Here are some inexpensive ideas to market your business you can do yourself!
Social Media
Almost everyone is on social media and your business should be too! Post regularly to keep customers interested and engaged. This will also help build brand awareness. Some social media sites allow users to leave reviews so encourage customers to share their experience on your profile.

Website
Every business (big or small) needs a website! Your mission should be clear and include (at least) basic information about your products or services. Your contact info, location and hours should be easy to find and you may also want to include customer testimonials, a blog, and your social media links. The most effective websites utilize SEO (Search Engine Optimization), which in basic terms means the process of making your website pages appear in a search engine's unpaid results. Click here for more information on SEO.
Business Partnerships
Another inexpensive way to market your business is to team up with other local businesses to promote each other's work. Create partnerships that make sense. For example, if you're a painter, try partnering with a paint provider. Yesterday I saw a commercial on tv promoting 1-year of free pizza with a purchase of a new mattress… Does that seem like an odd partnership or what?! Today, I passed a gas station located next to a coffee shop and they were offering 1 free donut with a minimum gas purchase. That partnership makes a lot more sense!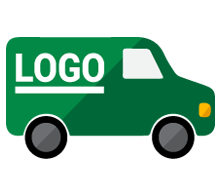 Vehicle Branding
We've all seen cars on the road with so many decals, it's a wonder how the driver can see out the rearview mirror! I'm not suggesting to wrap your car from top to bottom but if you drive a company vehicle, you may consider branding it with your company's logo and information. A less expensive option to a full paint job would be magnets or window decals.
Yard Signs and Sidewalk Signs
If your business is located on a main street with pedestrian traffic, try putting a sign on the sidewalk announcing new inventory, a sale, anything to entice customers to go inside. And if you're job takes you to residential or commercial neighborhoods, ask your clients if they'd mind you putting a yard sign in a spot where neighbors are sure to see it.
Local Media

Local news won't cover promotional things like sales but if your business does something unique or "newsworthy," send out press releases and network with local reporters. You may be able to get some free publicity.
Market Your Business to Existing Customers
You know these people will give you business so you need to turn them into repeat customers. Ask to add them to your email list where you can send regular emails with coupons and news about your business that keeps you top on their mind. Another option is to set up a customer referral program, offering incentives for customers to introduce new customers to your business. Expanding your reach for leads and
Whatever you decide to do, marketing is an important aspect to grow your business.