PEP has rolled out a new user friendly interface to make your experience even better! That means you can now control what the program looks like and how you interact with it.
Redesigned Toolbar
The most noticeable change is the toolbar. It's been redesigned to take up less space on the screen and now gives you a sense of progression through the estimating process. Just follow the yellow dot as you add a job, build the estimate, and create the eBid or proposal. You can click on the dots for shortcuts.

Job Shortcut Buttons
We've also created job shortcuts on the Client page that quickly take you to different parts of the estimate and a cost summary to easily review the grand totals. Use these buttons to jump directly to the job task you need. The back arrow will take you to the previous page. We've added a color code that also makes it easier to see what you're working on: purple for the job, orange for the area.
User Friendly Interface Settings
If you don't already see the new toolbar and job shortcut buttons when you log in to your PEP account, don't worry. You can turn them on! We've added a new user interface menu under Misc. Settings that allows you to customize the display and interaction experience with PEP.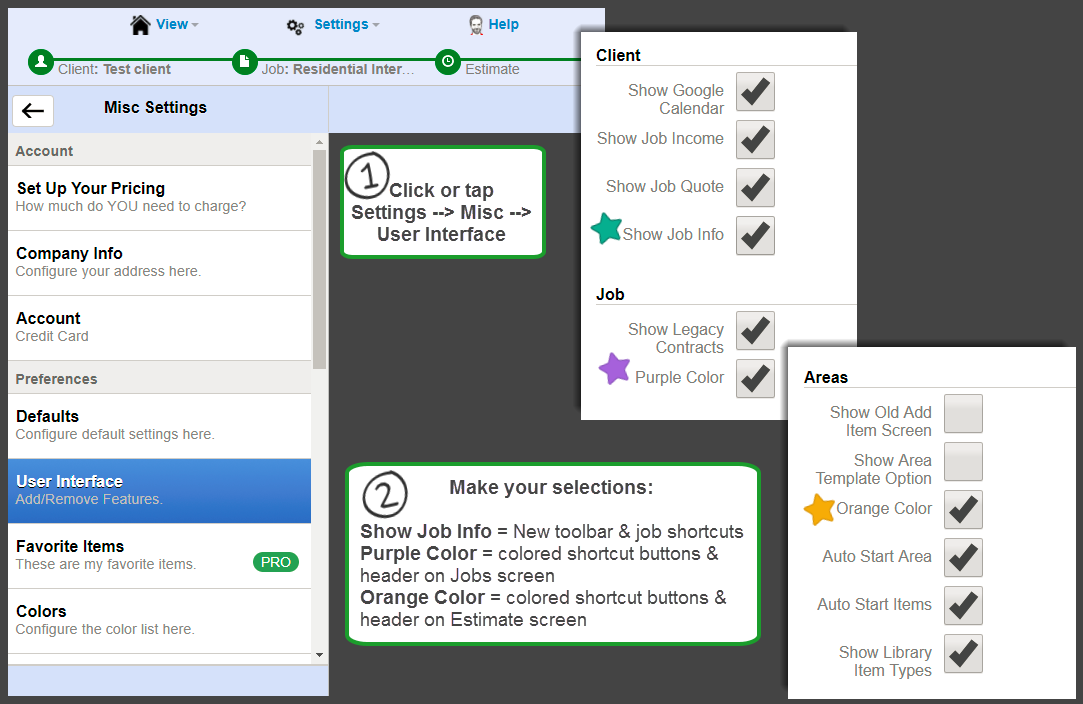 Auto-Calculating Items Are Easy
There is also a new option to select an "item type" when adding items from the rate library. This makes building auto-calculating forms quick and easy!
But Wait…There's More!
Other new features you may find useful:
YouTube links added to eBid pages will automatically play the video
Date and time of signatures now appear on the eBid overview
You can email work orders through PEP
Email drop down menu allows you to copy a proposal or work order link to clipboard (so you can use the link outside of PEP)
You may have found deleting clients and jobs from your PEP account a bit tedious. Now there are more convenient delete buttons on the client and job pages. Just make sure you really want to delete because you can't bring it back!
We are always working to improve your experience and make your job more efficient. Give PEP's new user friendly interface options a try; then you can choose which you prefer. And as always, we are here to assist in the process and are happy to answer questions you have about these new features or any old features too!
Happy Estimating!