Email marketing is a powerful tool for customer retention because it keeps your business front and center. Many small business owners underestimate the value of automated long-term email campaigns as a way of staying connected to leads and customers. A while back we talked about how to create successful email campaigns and the benefits of setting up a drip email campaign to help you automatically follow up with your customers. Want to motivate new business? Encourage repeat business? Delight your customers? Use email marketing!
4 long-term email campaigns you should consider: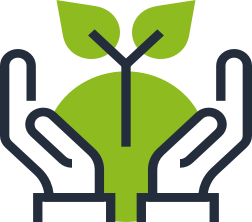 Email Nurture Series
These emails offer helpful information to new leads about the products or service you provide. They also contain industry knowledge, which adds value without the need for running a promotion or discount. The ultimate goal here is to encourage leads to convert to paying customers. We suggest sending 1 email per week.
Educate your leads.
Teach them about your specific products, services, and share relevant industry knowledge.
Help leads get to know your business.
Expand on your story and what makes you unique.
Embrace storytelling.
Testimonials from satisfied customers are a great tool to get new customers to choose you over your competition.
New Customer Email Series
Once a customer has chosen your business for the job, the next steps are crucial to how your relationship will develop.
Send a welcome email (immediately).
You are now welcoming a new customer into your business's family. Tell them more specifics about your products or services and what to expect next.
Schedule job-related work and appointments (same day).
Talk about the timeline of the work and get new jobs on the calendar.
Check-in with your customer (2 days before scheduled work).
Confirming appointments and addressing concerns will give them peace of mind and better prepare you and your crew.
Immediate follow up (1 day after work is complete).
Follow up with the customer about their overall satisfaction with the job. Address any problems specifically and directly.
Delayed follow up (1 month after work is completed).
Follow up with the customer to find out how the work is holding up.
Ask us about email marketing with PEP.
Click the blue and white chat button in the lower right corner of your screen now to talk with an expert.

Repeat Customer Email Series
Repeat customers already know, like, and trust your business because they've had a positive experience. After the initial work is complete, you should send relevant information and suggestions based on their upcoming needs.
Maintenance check (6 months after completion).
Was the job for exterior paint? Suggest a power wash to keep it looking fresh.
Alternative job (8 months after completion).
Was the job for interior paint? Suggest an update to the exterior or vise versa.
Warranty expiration reminder (1 year after completion).
Did the customer have a warranty that is about to expire? Send them a reminder and ask about any concerns they may have.

Lost Customer Email Series
Did a customer not respond or reply to a bid you sent them?  Follow up with a series of email reminders. Also ask for feedback in order to improve your service offerings.
PEP offers an automated email feature, which makes connecting with your customers extremely easy! If you don't use PEP, there are many programs available that can create long-term email campaigns. But if you do use PEP (or you want give it a try), we can help you get started!